Mechanical face seals
Applications
Mechanical Face Seals are designed to operate worldwide in harsh environments and in abrasive media such as dust, sand, mud, stones and dirt, where they adequately protect high quality components like planet sets, wet brakes disks and bearings against penetration of destructive media. Mechanical face seals have been utilized with outstanding success in transmission, pumps, axles and drive mechanics.
An extraordinary wear-resistant solution is needed for a variety of demanding applications, such as construction machinery, agricultural equipment, mining machinery, drive mechanics for tracked vehicles and many other applications.
Designs
The most common design of mechanical face seals is the so called o-ring design. This design consists of two symmetrically tapered seal rings and two O-rings. Designs with a ground profile or an as-cast profile are completely interchangeable.
Mounted condition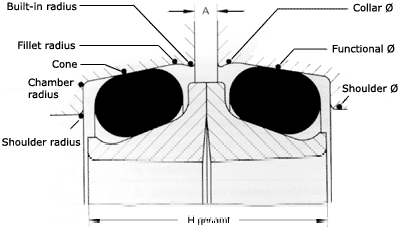 Housing bore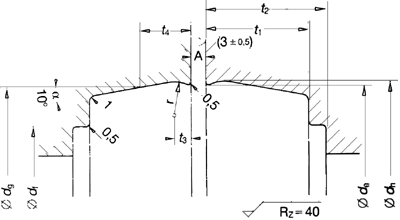 Materials seal rings
The standard high performance material Duronit V is very common in the cast iron seal market. This ledeburitic cast iron with fine graphite inclusions is known for its excellent wear resistance in connection with good tribological qualities.
Materials O-rings
The standard design meets the requirements with the use of nitrile-butadiene rubber (NBR).For higher thermal stresses, the o-rings are constructed of HNBR, FPM or VMQ. The oil compatability of several elastomers has to be checked.
The elastomer materials listed are offered in various degrees of hardness so that the o-ring can adequately perform its function of generating a permanent and consistent contact pressure within the sealing system.
Installation tools
A slotted plastic ring which sits between the elastomer ring and the land of the seal ring can be used to aid installation. This ensures that pressure is applied directly on the O-ring when inserted. Installation tools are currently available for various mechanical face seals – further tools may be obtained upon request. Mechanical face seals are precision components made of chilled cast iron, therefore care must be taken to avoid sharp blows and impacts.
Upon request we are able to deliver an installation manual. If the seals set is taken apart in the course of repairs, a new set will have to be installed, because even after a short operational time, the mating faces will have run in on a common line. In this case the sealing qualities can no longer be guaranteed when re-assembling the seal set.