Piston rings
Piston rings in general
Piston rings play an essential role in the life and efficiency of motors. The requirements for the performance of the motors are continually increasing, particularly with respect to durability, increasing pressures and increasing piston speeds. To meet these demands individually ,our engineers have all sorts of different Base- and Coating-materials at their disposal. Modern machines and tools guarantee a piston ring production of consistently high quality.
Delivery range
We provide piston rings for marine- and stationary engines, shock absorbers, compressors and hydraulic motors. Various compositions of compression, Nose-, beveling-, Oilscraper- and spring-loaded oil control rings are possible. We also provide piston ring repair kits together for a complete engine overhaul. All piston rings are available in different profile designs and made of different materials.
Materials for various heavy duty applications:
Surfaces Chrome ceramic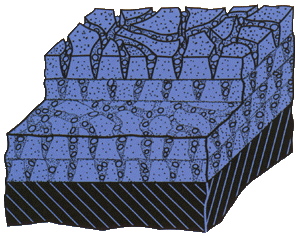 LM- and REM recordings of the tread after approx. 40000 hours in a gas engine with 400mm drilling.