General seals
Packing
P 8 "Ramie"
Braided from Ramie fibre with PTFE impregnation and silicon free run-in lubricant.
Technical data sheet
p [bar]
25
50
100
v [m/s]
12
2
-
t °C
-50 ... +140 (120)
pH
3-11
g/cm³
1,30
Beschreibung:
Ramiefaser mit PTFE Imprägnierung und siliconfreiem Einlaufschmiermittel
Haupteinsatzgebiete:
Pumpen, Armaturen, Refiner, Filter, Stevenrohr und Rührwerke
Eigenschaften:
Universalpackung für den niederen Temperaturbereich
Sehr gutes Preis-Leistungsverhältnis
Sehr strapazierfähige, wellenschonende, fäulnissbeständige Packung
Sehr gut beim Einsatz mit verunreinigten, feststoffhaltigen Medien
Geeignet für:
Papier, Zellstoff, Lebensmittel, Betriebsunterhalt, Kläranlagen und Schiffstechnik ...
P 12 "Kombi"
Combination braid of e-PTFE/Graphite and Para-Aramid Fibre as running surface reinforcement contains run-in lubricant.
Technical data sheet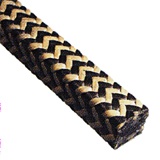 p [bar]
25
-
150
v [m/s]
25
-
-
t °C
-100 ... +280 (200)
pH
2-12
g/cm3
1,45
Beschreibung:
Kombinationsgeflecht aus PTFE-Graphit und Aramidfaser mit Einlaufschmiermittel
Haupteinsatzgebiete:
Pumpen, Rührwerke, Mischer, Refiner, Kneter, Filter
Eigenschaften:
Geringer Wellenverschleiß und optimale Wärmeleitfähigkeit
Empfohlene Oberflächenhärte der Welle: HRC 55
Sichere Universalpackung bei abrasiven Medien
Geeignet für:
Papier- und Zellstoffindustrie, Abwasser, Klärtechnik, Lebensmittel, Chemie und Pharma
Zulassungen:
Lebensmittel (FMPA)
Sonderqualität:
S 12 K "Plunger" mit Kantenverstärkung
A 19 "Spezial"

100% PTFE-fibre with special PTFE dispersion
Technical data sheet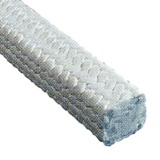 p [bar]
20
200
500
v [m/s]
2
2
-
t °C
-200 ... +280 (200)
pH
0-14
g/cm3
1,60
Beschreibung:
100% PTFE-Faser mit spezial Dispersion
Haupteinsatzgebiete:
Armaturen, Ventile, Schieber, Klappen, langsam laufende Wellen, Kolben, Tür- und Deckeldichtung
Eigenschaften:
Bei Hochdruckanwendungen bzw. Vakuum sind vorgepresste Ringe empfehlenswert
Lange Standzeiten
Geringste Wartung, kein Nachjustieren
Zulassungen:
Lebensmittel (FDA, FMPA), Zulassung für gasförmigen, verdichteten Sauerstoff 200 °C/20 bar (BAM).
Auf Wunsch wird Typ A 19 als Sonderqualität mit BAM-Zulassung für flüssigen Sauerstoff 200 °C/30 bar geliefert.
A 44 "Grapho"

Braided from expanded graphite tape
Technical data sheet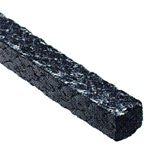 p [bar]
25
10
300
v [m/s]
30
2
-
t °C
-200 ... +450 (600 Dampf)
pH
0-14
g/cm3
1,15
Beschreibung:
Geflecht aus flexiblen expandierten Naturgraphitfolien
Haupteinsatzgebiete:
Armaturen, Pumpen, Ventile, Schieber
Eigenschaften:
Universell verwendbar in Pumpen und Armaturen
Sehr gute Notlaufeigenschaften
-> kein Wellenverschleiß, thermisch gut leitfähig
Qualitativ hochwertiger Reingraphit
- Wärmeausdehnungskoeffizient wie Stahl
Ringe müssen auf Dichte 1,4 bis 1,6 bei der Montage vorverdichtet werden
Vorgepresste Ringe sind empfehlenswert
Geeignet für:
Kraftwerke, Petrochemie, Kesselhäuser, Hochdruck- und Hochtemperaturanwendungen
P1 "Universal"
Braided from 100% Gore®GFO® expanded PTFE-fibre with incorporated grahite and silicon run-in lubricant
Technical data sheet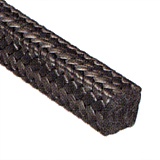 p [bar]
25(20)
100
150
v [m/s]
25
2
-
t °C
-200 ... +280 (200)
pH
0-14
g/cm3
1,55
Beschreibung:
100% GORE® GFO® PTFE-Faser mit inkorporiertem Graphit und Siliconeinlaufschiermittel
Haupteinsatzgebiete:
Pumpen, Mischer, Rührwerke, Autoklaven, Rafiner, Kneter
Eigenschaften:
In extrem weitem Einsatzbereich für alle Industriezweige geeignet. Nicht für abrasive Medien empfohlen.
Sehr leichte, sichere Montage und Handhabung. Kein verspröden oder altern.
Leichte Demontage.
Wellenschonend (HRC 25), sehr gute Wärmeleitfähigkeit
Geeignet für Kraftwerke, Chemie, Papier, Zellstoff, Lebensmittel und Pharma.
Zulassungen:
Alternativen zu 100% GORE® GFO®, auf Anfrage
Ring cutting
Calculation of the cutting length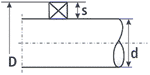 L = (d + s) · π · x [mm]
s = (D - d) / 2
x = surcharge factor = 1,04 to 1,09
Packing section fittings/ pumps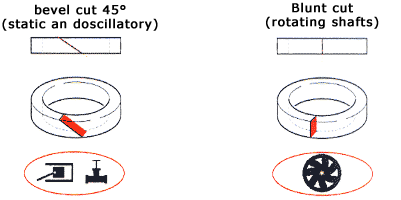 Manhole and hand hole cover gaskets
novaSEAL aus temperatur-, korrosions- und chemikalienbeständigem Hochleistungsgewebe, TÜV geprüft.
Standard-
Abmessungen
der Dichtungen
Schrauben
max. erreichbarre
Dichtpressung
durch Gesamt-
schraubenkraft
(N/mm²)
dazu
erforderliches
Anzieh-
drehmoment
(Nm)
Innendruck,
bei dem die
max. Dichtpressung
der Schrauben
erreicht wird
(bar)
Handlöcher
80 x 120 x 15 x 7
100 x 150 x 15 x 7
115 x 165 x 15 x 7
150 x 200 x 15 x 7
1 x M16
1 x M16
1 x M20
1 x M20
5,4
4,4
6,2
5,1
110
110
235
235
22,6
15,8
20,4
14,0

Kopfloch
220 x 320 x 25 x 10
2x M20
3,9
235
11,5
Mannlöcher
300 x 400 x 25 x 10
320 x 420 x 25 x 10
350 x 450 x 25 x 10
2 x M24
2 x M24
2 x M30
4,5
4,2
6,3
410
410
810
10,7
9,5
13,4
Weitere Abmessungen und Werkstoffe lieferbar.
Brake strap and – linings
Brake bands for cars, hoists, winches, conveyors and general industrial applications.
COSID 110
Material description:
The friction material COSID 110 is a non-asbestos brake strap. With its rubber compound, it is highly flexible and delivers good strength. The material contains no metal parts. It is well suited for bonding technology, good Staking and may very well be machined. COSID 110 has a dark gray color, a medium coefficient of friction and excellent wear properties.
Applications:
Shipbuilding, hoist drum brakes, use in forklift-wheel brakes, versatile use in industry (tape, punched part, segment, ring), particularly in drive technology. In general it is used in machine building and agricultural engineering, but the material is only suitable for dry running. The binder is oil-resistant.
Recommendation: Opponent material
Cast iron with pearlitic structure steel with a strength of at least 600 MPa.
application parameters:
p = 0,3 ... 1,2 N/mm<=
v max = ... 40 m/s T
Briefly = ... 300 (infinity)C
T constant = ... 250 (infinity)C
Physical properties:
Heat capacity: approximately 1,8 g/cm>= tensile strength: at least 8 N/mm<= Brinell hardness: HB > 70 N /mm<= Thermal conductivity: approximately 0,45 W /m * K Spec.
Processing instructions:
Drilling:
drills with a point angle of 118 (infinity)
Recommended is a carbide tip
The drill diameter should be 0.1 to 0.2 mm greater than the required level for the finished bore
Turning:
equipping the turning tool with carbide
Feed: 0.2 to 0.5 mm / rev
Cutting speed: 100 to 150 mm / min
Punching:
Material for stamping tools: 90 Mn V 8 or 210 Cr 46
lining thickness up to 6 mm for punching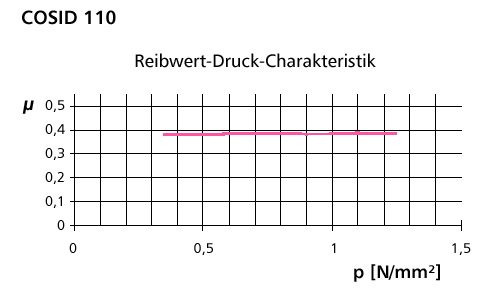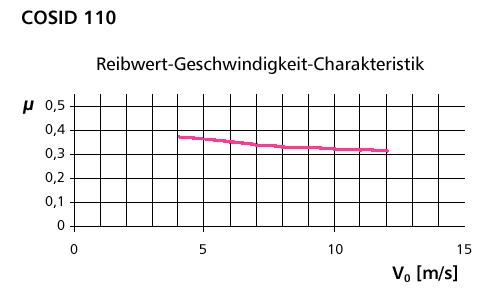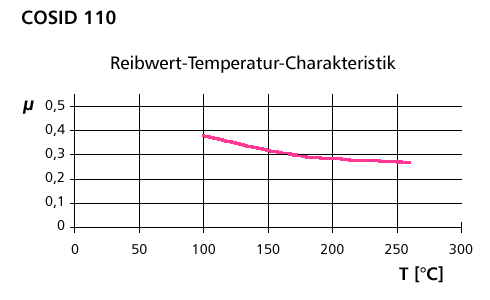 The test results are based on Cosid test methods. They should serve the choice of materials and provide guidance for the design calculations. An immediate transferability to the practical case is only possible with limitations.Adequate safety guidelines are to be considered. Experience has shown that a trial in initial equipment is unavoidable.
COSID 190
Material Description:
non-asbestos special fabric made of a specific fibre combination sea water proof, for use on sea-going vessels
Packaging:
The meter up to 30 mm thickness as a roll, respectively cut to custom sized length.
Applications:
Shipbuilding, winches, drum brakes, Mining (approved for underground mining!), general industrial application
Coefficient of friction and wear:
Coefficient of friction see pictures
Wear resistance lining: very good
Recommendation: Opponent material
Cast iron with pearlitic structure Steel with a tensile strength of at least 600 MPa
Application parameters:
p = 0,2 ... 8 N/mm<=
v max= ... 30 m/s
T briefly = 350 ... 400 °C
T constant = ... 250 °C
Physical properties:
Density: 1,0 g/cm>= ( DIN 53479 )
Zugfestigkeit nach DIN 53455:
bei 20 °C 15 MPa
bei 250 °C 6,5 MPa